Jewelry making supplies and tips
We offer unique jewelry making supplies, items including Swarovski Crystals, ornate brass filigrees and stampings, findings, beads, cameos, chain, settings, tools and display items as well as free lessons and ideas. We've been in the jewelry industry since 1989. If we don't have it...we might be able to locate it for you.

When you shop at www.VintageJewelrySupplies.com or www.AccessoriesSusan.com you will find thousands of the highest quality brass base metal findings and stampings made in the USA and Europe. Our plating company is the same one used by Nordstrom, Chicos, and many other high end clients. They apply our beautiful antique finishes in oxidized sterling silver, brass and copper. (OX is the industry abbreviation for Oxidized.) Nickel and lead are not used in our plating process. Our inventory also includes beautiful vintage glass jewelry stones and beads as well as other items to create many projects in addition to jewelry making.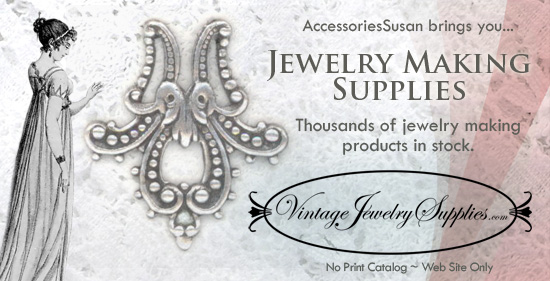 Tips for creating your own unique jewelry designs.
Mixing natural gemstone beads and cabochons with vintage glass beads and oxidized findings lends importance to your art. The colors are rich and the markings are always interesting. The stones are very earthy and flattering to your face. Look for natural, not dyed stones and pendants, since the dye will change and fade over time.

Small groups of beads on short pins joined by jump rings will allow for fluid strand movement. When you use one long eye pin or opt not to use jump rings you can count on crimps and odd angles. Use double jump rings with bolder pendants and chain. It allows for more balance and harmony when all the elements are of the same weight. Repeat certain elements of your design throughout the piece to help tie everything together. Layered bead caps are much more interesting and unique than using just one.

A unique bail can make all the difference in the look of your finished project. You can create bails from connectors by folding them over a mandrel forming a loop to hang your pendants from. Try folding over a connector which is the correct size and shape then add a jump ring as in item A. You can also use one link of decorative chain as in item B in the photo. Any unsoldered larger link chain which has the right size and shape links can be used as a bail.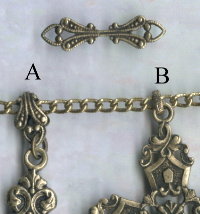 How to sell your high fashion jewelry
The least successful show I ever had in my design career came early at an upscale Farmer's Market which included an antique store, several cafés and elegant gift shops on the same grounds. (It sounded like a great opportunity at the time!)

I learned these tips from being in shows at all levels from that lousy Farmer's Market show to a fine arts and crafts show at the Smithsonian. Arts and crafts shows are hard work and very time consuming since they normally last at least for the whole day if not the whole weekend and usually require months of expensive preparation.

Arts and Crafts Shows

1. Go to the show as a shopper first to take some notes. Consider the number of your possible customers in attendance. Do you see other items there of the same caliber as your work?

2. Keep notes and detailed records from sales at each show you do from year to year. You should expect to make at least three times the total cost of what you invested to be in the show. (Not just the show fee.) Among your notes should be the customers you had at that show. Send those customers a post card ten days before the next show to let them know you will be showing there again this year and invite them to stop by to see you again. You might offer them a small discount when they show the post card and even more if they bring a friend. Repeat business is your best advertisement.

3. Match your product to the show. If your customers are more mature ladies who can afford to buy and wear your divine jewels; are they likely to traipse through a muddy field to get to your booth?

4. Keep your booth organized, neat and well lit. If you display your items in color groups it is much easier to shop. Your most expensive and beautiful items should be at eye level. There is no reason to display every single item you brought with you at all times. Too much of a good thing is still too much. Keep your back stock and working supplies out of sight. Keep in mind the possibility of high winds and rain if you are doing an outside show. Be prepared. Create a pleasing, easy to shop display and then discretely fill in as you sell down so that you don't look like you are going out of business near the end of the show. Don't add a lot of display props which aren't for sale. It is very irritating to customers who ask, "How much for this scarf?" ...only to learn it isn't even for sale.

5. Getting juried for a show is very stressful, but a show worth participating in is always juried. Imagine doing a show full of flea market items or cheap knock off imports. That type of show will devalue the items you have worked so hard to create. When you submit your jury application be sure to send very clear pictures of your booth and the items you sell. Send a cover letter including the basic information about your designs and your contact information as well as a self addressed stamped envelope.

6. Present yourself as a professional at the show. Wear clean pressed nice clothes as well as your own jewelry. Look and act professional at all times. Do not smoke at your booth, even if it is an outside show. Do not eat at your booth. Look your shoppers in the eye and at least smile at them if you can't speak to each one right away. Allow them to look at their leisure without your input, but be aware of them when they do need your attention.

Friends who work with lots of women who also love fashion or who admire your friend's fashion sense, would love to know where she gets all those wonderful pieces she wears. By giving your dear friend a healthy discount or even free jewelry based on the amount she sells to her friends; you get more loyal customers and a name worth following. Your name is another thing you need to consider seriously. Determine the name that will represent your company now and well into the future and stick with it. You have to start all over every time you change the name of your company.

Private invitation only parties are a great way to show your creations and create new friends as well as customers. Maybe one of your best current customers would like to have a special set for free if she has a private shopping event in her home with five guests. Those people will know why they are there and they will be prepared to shop.

Trunk Shows are another effective way to get your inventory displayed to potential customers. If you aren't already; become acquainted with a boutique owner who sells the fashions your jewelry could be worn with. Tie in with a special pro motion such as a fashion show, holiday open house or husband's shopping night. You participate as the designer of your items. Meet and greet the clients and show them the jewelry you have brought with you. Keep up with what they buy (as previously agreed with the owner of the shop). The shop owner gets a percentage of the sales but there is no up front cost to them. They don't have to buy inventory or hire extra staff and you get to sell and show your creations. Keep in mind that when the shop owner sees how well your items sell, and how you conduct yourself, they may start stocking up on your designs to have on hand all the time. I've been on buying trips to New York and Atlanta with store owners, operated the store while the owners were away and best of all had one whole case of my jewelry showcased full time in their stores, all because of a relationship which started at a trunk show..
OTHER SUPPLIES