Anne has been one of our artist for over 10 years and she is sharing one of her designs with us all! It is simple yet so unique!
---
Battle Ax Earring
A nice companion to the super BA Battle Ax Necklace.  These shields are so pretty on their own, and the patina makes them look like tarnished heirloom silverware.  Divine.
---
Materials:
• (2) Two – 20x15mm Antique Silver Shields  Item# X445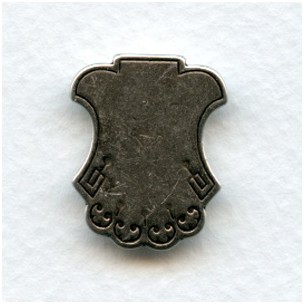 • (2) Two – 15×10 Silver Plated ear wires with pads (or if you want clip on, you may use) Item# AA55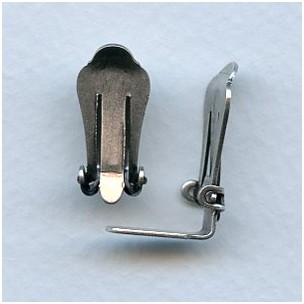 • Black alcohol ink
• Bead Fix brand epoxy glue
• Tools: paintbrush, paper towel
• Dimensions: 1.25″
---
Instructions:
Having a dry and slightly damp paper towel ready, apply alcohol ink with a wet paintbrush, to one shield link, removing excess with paper towel. (If you made a mistake or used a heavy hand, the alcohol ink can be cleaned up with nail polish remover.)  Let dry completely.  Repeat for second shield link.
Fold a paper towel to make a ¼" raised surface and place on protected surface. (In the next step you will place your shield on the edge of this folded paper towel, and give the ear wire enough room to sit levelly on the shield as it sets.)
Apply one drop of epoxy glue to back top-center of one shield and attach pad of ear wire. Repeat for second earring.  Do not touch and let dry completely.
---
Resources / Shields: VintageJewelrySupplies.com
Alcohol ink and ear wires: HobbyLobby.com